Sterndrive Inboard Gasoline MEFI-1 to MEFI-4 Diagnostic System 531-0118I4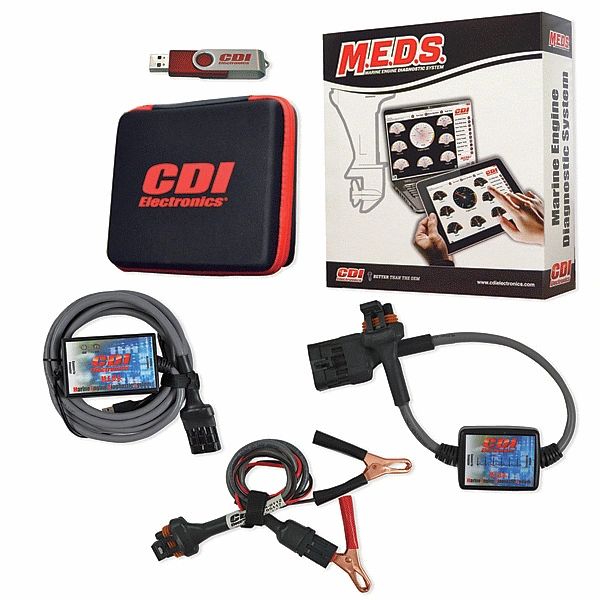 Sterndrive Inboard Gasoline MEFI-1 to MEFI-4 Diagnostic System 531-0118I4
Price excludes VAT

Marine Engine Diagnostic Software for Gasoline MEFI-1 to MEFI-4 Inboard and Sterndrive Engines.

CDI Electronics introduces the new MEDS Version 8.1 Inboard Diagnostic software. This software system can be used on a stand alone basis or added to any existing MEDS system and be used as a dynamic test tool for most MEFI I-IV Engine Management Modules. The new software also features multi-language capabilities, dual engine testing features, and an improved report showing the complete engine history of the motor.

For the following engine applications:
 

GM MEFI Versions 1-4



 

Purchased Alone:

 531-0118I4                                                                         

As an Add-on/Upgrade: 

531-0119I4   

 MEFI 1-4 Equipped

Years

 Crusader / Pleasurecraft Marine                                                                    

1992 – 06

 Flagship Marine

1992 – 06

 GM RamJet 350

1992 – Up

 Indmar

1992 – 07

 Kodiak Marine

1992 – 08

 Marine Power

1992 – 08

 Mercury / Mercruiser

1992 – 00

 Mercury / Mercruiser Racing  HP500

1992 – 10

 Panther Air Boats

1992 – Up

 TurnKey Engines

2001 – 07

 Volvo Penta Gas

1992 – 05




Software operates on any PC/ laptop running Windows 7 or higher as well as any tablet running Windows 8.1 or Windows 10 with a USB port, letting you choose what works best for you.
Minimum computer requirements Intel Pentium 2Ghz and 500MB of free space needed to operate the software on any laptop.
Please Note: Tablets running Windows RT will not run M.E.D.S
Live '3D Digital Dashboard' for easy viewing of real engine data.
Special test functions and output load test features.
Print engine test results for customer database files.
Interface and cables included.
1 year warranty on test cables.